Garage Door Spring
Back To Our Services
One of the most common problems with garage doors is broken spring repair in Great Neck. Broken spring replacement is simple for our team of qualified, trained professionals at Garage Door Co Great Neck. However, it can be tricky without the proper training and experience, because not all garage doors have the same type of springs. Some doors have a torsion spring, while other use extension springs. When you need to fix garage door spring mechanisms in Great Neck, NY, we would be honored to help you.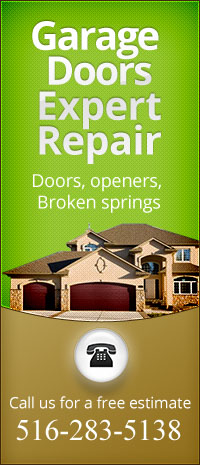 At Garage Door Co Great Neck, our team of professional contractors is not only experienced in all types of Great Neck spring repair, including being able to replace torsion spring parts, but also is proud to be a part of the larger Great Neck community. So, you have been using your Genie garage door for the last three years problem-free. Why in the world did it have to break down suddenly just when you are running late for a very important meeting? Troubles like that usually start at the moving garage door parts, which are overworked with every opening and closing cycle, binding their time to stop functioning abruptly. To avoid the inconvenience of such a mishap, it is crucial that you submit the unit for professional inspection and assessment. Our expert technicians are highly skilled in offering excellent garage door maintenance and repair services.
We would love to help remove the stress of garage door spring repair in your home or business. Please call us for any of the following:
Broken Spring Repair
Broken Spring Replacement
Torsion Spring Problems
Extension Springs Issues
And Other Garage Door Repair Needs
When you need someone to fix the spring mechanisms quickly, you can trust the same day service professionals at Garage Door Co Great Neck. Our contractors often have the parts they need to perform broken spring repair on both torsion spring systems and extension springs. Broken spring replacement may be necessary, if spring repair is not possible.
Great Neck Torsion Spring
The method to fix spring mechanisms starts with understanding what they are. If you need to replace torsion spring parts, you will need to know that torsion springs are based on applying torque or a twisting motion. This can mean that an incredible amount of pressure can be exerted on the door and the springs. This pressure makes the process to replace torsion spring parts very dangerous for untrained amateurs.
Extension Springs Great Neck
Broken spring repair or broken spring replacement on an extension springs system can also be risky. The weight of the door and moving parts can cause injuries. It is best to call in spring repair experts, when you need to fix garage door spring systems. We strive to offer the very best service for all our clients at Garage Door Co Great Neck. Please contact us for all your garage door needs, and we will send a professional contractor out on the same day to help you!